Tutorial Overview
Learn the complete character workflow for VFX in Maya and ZBrush with all three volumes of Surfing with the Alien. This series was created by Jason Edwards who's a Senior Artist at Framestore, so if you want to learn how to make characters that reach production standards this is a project for you. All scene files and assets are included.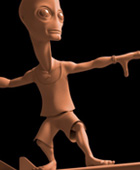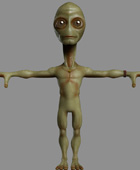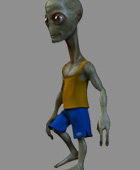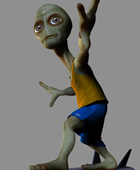 Surfing with the Alien vol. 1 - Organic Modeling & UV Layout
The first volume of Surfing with the Alien covers the workflow in Maya for character modeling based on concept sketches, followed by UV layout where you'll pick up a lot of good tips and time savers in this field.


Character Modeling in Maya
Polygon Plane & Box Modeling Techniques
Topology & Edge-Flow
Character UV Layout
Creating Clothes & Surfboard
Sculpting Muscle Tone


Surfing with the Alien vol. 2 - Maya & ZBrush Integration
The second volume covers a texturing workflow in Maya, ZBrush and Photoshop followed by shading, lighting and rendering techniques in Mental Ray with Subsurface Scattering materials and displacement.


Maya - ZBrush Workflow
Skin Sculpting & PolyPainting in ZBrush
Displacement, Cavity, Specular & Normal Maps
Texture Maps & Logos in Photoshop
Realistic Eyes
Bump Maps for Cloth
Subsurface Scattering in Mental Ray
Displacement in Mental Ray
Character Lighting & Rendering in Mental Ray
Constructing Shading Networks
Final Gather Light Maps
Mental Ray Approximation Nodes






Surfing with the Alien vol. 3 - Character Rigging & nCloth Workflow
The final volume in our series covers a workflow of how to easily rig your humanoid characters for animation and bring them to life at your own pace in nine simple and easy to follow chapters with great results.


Joint Chain /Humanoid Skeleton Setup
RP and SC IK Handles
Character Attribute Controls
Character Curve Controls
Facial Blend Shapes
Set Driven Key
Constraints
Linking Attributes via the Connection Editor
Expressions
Smooth Skin Bind
Weight Painting
nCloth


Save 10% when you buy all three volumes together (normal price $89.75).
Downloads
If you've purchased a downloadable copy of this this tutorial you can download it using the links below. Links will be active for Lifetime Members and people with video credits
| Parts | Credits | Length | Size |
| --- | --- | --- | --- |
| Lesson Pack 1 | 8 | 300 Minutes | 1300 Mb |
| Lesson Pack 2 | 8 | 300 Minutes | 1100 Mb |
| Lesson Pack 3 | 16 | 363 Minutes | 660 Mb |
| Lesson Pack 4 | 12 | 224 Minutes | 789 Mb |
Length: 19 hours and 47 minutes
Software: Maya 2011 & ZBrush 4
Format: MPEG
Download Price: 79.95
Video Credits: 44