Tutorial Overview
Save over 25% (normal price $114.85, bundle price $84.95) on this 20 hour long three volume creature series by Jason Edwards from Framestore. We get asked all the time how creatures are made for film and how that differs from simply creating something at home. We attempt to answer that in this three volume series.
Jay applies the same techniques used while working on the creatures for the John Carter movie.
All three volumes together weigh in at around 20 hours, it's very involved but if you really want to see how a senior modeler at a large VFX house creates some of the on screen monsters we all love then look no further!

Creature Vol 1 - Modeling Quadrupeds
This tutorial covers creature creation from concept sketches through to modeling a low poly base mesh in Maya. We'll follow Jay as he takes us through the challenges of creating clean topology that can be passed down the pipeline for rigging and animation.
Jay will also explore several key concepts such as joint placement, realistic anatomy and proper weight distribution giving you the techniques to extrapolate your own creature designs from this core tutorial.
All assets are included with this project. Below are images of the concept sketch, base mesh in Maya, and detail sculpt in ZBrush.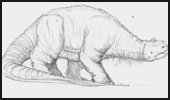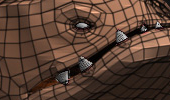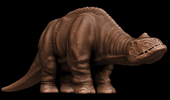 Creature Vol 2 - Surface Anatomy Detailing ZBrush Drawing from his experience on recent feature films Lockout and John Carter, Senior Modeler Jay Edwards from Reliance Mediaworks VFX shares his production techniques for creating detailed surface anatomy in ZBrush.
The workflow presented here can be applied to any type of skin surface and is an essential part of detailing organic models.

Creature Vol 3 - UV Layout and Texture
This is our final set of lessons in the Creature Series By Jason Edwards. In this set of video tutorials we'll take you through the process of UV mapping the creature using a variety of different techniques. We start by covering some simple UV mapping and rapidly move of to show you some of the ways it's done in a professorial fast-paced studio. Even if you're an old hand at UV mapping the first parts of this video may be a eye opener for you.
We then move on to ZBrush where Jay covers the texturing process in full. We show various different ways of rapidly texturing an entire character in ZBrush. Textures created include a diffuse color a spec/reflection map a normal map and finally a displacement map.
The final two parts of the video take us back into Maya where we show you how to set up the maps you generated in ZBrush on a Mental Ray material. Individual tutorials in this series: Creature Vol 1 - Modeling Quadrupeds Creature Vol 2 - Surface Anatomy and Detailing Creature Vol 3 - UV Layout and Texturing
About the instructor

Jason Edwards (IMDB) is a Senior Modeler at Framestore in London. He's got more than ten years experience working on feature films and television productions for companies like Cinesite, Digital Domain, Red Vision and Windmill Lane VFX. His recent film work includes John Carter, GI Joe Retaliation, Enders Game and Lockout where he was the Lead Modeler. He also created creature assets for Into The Universe with Stephen Hawking which aired on the Discovery Channel.
Downloads
If you've purchased a downloadable copy of this this tutorial you can download it using the links below. Links will be active for Lifetime Members and people with video credits
| Parts | Credits | Length | Size |
| --- | --- | --- | --- |
| Lesson Pack 1 | 3 | 85 Minutes | 443 Mb |
| Lesson Pack 2 | 3 | 90 Minutes | 528 Mb |
| Lesson Pack 3 | 3 | 101 Minutes | 714 Mb |
| Lesson Pack 4 | 4 | 106 Minutes | 692 Mb |
| Lesson Pack 5 | 4 | 156 Minutes | 1200 Mb |
| Lesson Pack 6 | 3 | 40 Minutes | 1100 Mb |
| Lesson Pack 7 | 3 | 81 Minutes | 237 Mb |
| Lesson Pack 8 | 3 | 76 Minutes | 263 Mb |
| Lesson Pack 9 | 4 | 52 Minutes | 239 Mb |
| Lesson Pack 10 | 3 | 52 Minutes | 691 Mb |
| Lesson Pack 11 | 3 | 64 Minutes | 823 Mb |
| Lesson Pack 12 | 3 | 120 Minutes | 1300 Mb |
| Lesson Pack 13 | 3 | 84 Minutes | 442 Mb |
| Lesson Pack 14 | 3 | 86 Minutes | 335 Mb |
| Lesson Pack 15 | 3 | 69 Minutes | 206 Mb |
Length: 21 hours and 2 minutes
Software: Maya 2013 / ZBrush 4
Format: 1080p HD
Download Price: 84.95
Video Credits: 48