Think about the way that door molding would be made. It would be two vertical molding pieces and a curved section at the top. The curved section would be milled and routed to order but the profile would be perpendicular to the curved path. For the miter at the end they would make the straight pieces longer then needed and saw them at the desired angle.
I am going to upload some images to try and show you why you cannot do it the way you are trying and the way I would recommend you do it.
It will take me a couple minutes so stand by please.
1. you can extrude with the profile at an angle to the path but it must be angled for the entire extrude! You can see this creates a non-uniform (skewed) result.
2. Also when you rotate the profile curve you change the width of the molding!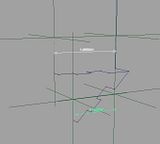 3. You want to create the molding in a similar way to how it is actually manufactured by extruding along the profile normal with these settings.
4. step 1 - extrude along profile normal. I did the entire arch because I am still unclear about whether you want the miter at both ends! Note that I extruded a polygon solution and I used "control point" which matches the edit points in my path curve. To get higher resolution use the "general" method and then set the number of spans you wish in u and v.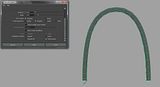 5. step 2 - extend the verts at the bottom and use the cut faces tool to create the miter cut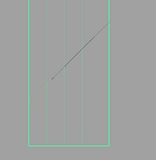 6. step 2a - there you go your miter at one end a not at the other solution
7. step 3 - for the solution I think you want cut the arch in half
8. step 3a - mirror the right side