:bow:
So I'm trying to make this little short film, right?
'Tis a bitter sweet tale about a robot trying to find e-companionship in a post apocalyptic wasteland...
...only problem is I can't make a post apocalyptic wasteland! :headbang:
This is as close as I've come: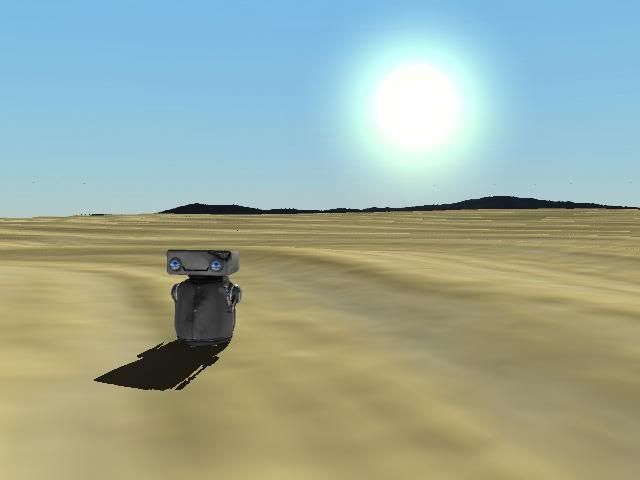 What the heck is that?! It looks nothing like I'm picturing it in my head... not dreary enough, ya know?
I'm a environment noob. I have no idea what to do. I'm losing momentum on this project, and I really don't want to be!
If perhaps someone could throw some pointers my way? On things like:
- Lighting the scene like a desert (The sun? glowing ground reflections perhaps?

)
- The sky? I mean, come on! That's not a desert sky! /cry
- That cool heat distortion thingy... kinda miragey? You know.
- Tracks? How do I make wheels tracks in the sand?! I dunno! ...maybe you do? Hm?
- How to model nice looking sand dunes, perhaps?
-Maybe theres a tutorial on making a desert somewhere that I can't find no matter what I do?
Please help! I will send you SO MANY pictures of puppies if you help!
:attn:
Heres a few of the models I've made, as an added bonus! The main character is on the bottom!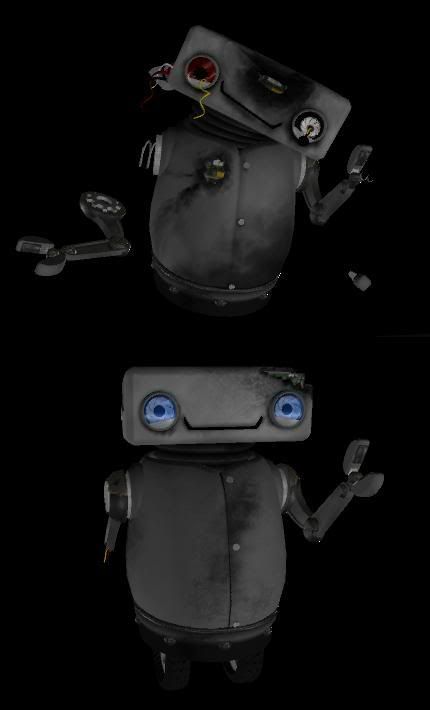 Oh man... any help would be appriciated! Thanks!