Someone asked how to model a bottle cap over at the luxology website and one of the users there actually works in the art department at Coca-Cola and he offered this topology.
I thought it was interesting and demonstrates that n-gons are not always bad. The 22 flutes of the bottle cap have an n-gon at the top of each one but results in a very pleasing and natural looking cap.
There are 132 faces around the bottom (fluted) area that transition into 66 faces around the middle sections, and finally reduce to 33 4-sided faces at the cap. There is another n-gon on the interior face of the cap section but that will never really be seen.
This tutorial also demonstrates where pattern selection would be a useful feature to see added to Maya.
Here is what we make...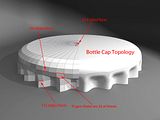 Here is a link to the short tutorial at screencast.com
http://www.screencast.com/t/NjdjZjZiYW
If I have run out of bandwidth goto youtube.com
http://www.youtube.com/watch?v=82qFrj_0jEE&fmt=22