Increasing tessellation will really not fix the seam issue. Seams between adjacent NURBs surfaces are caused by non-parallel surface tangents along the seam.
There are a number of ways to correct this. The easiest is to attach the two surfaces using the "blend" and 50% settings and then detach them. This will force the two surfaces to be tangent at the edges where they meet. Alternatively, you can select the two hulls that run parallel on both surfaces, closest to the seam, and make them all coplanar.
There are other solutions as well at some point I will make a small video tutorial to demonstrate in the mean time I will grab a couple screen shots to demonstrate the cause and one solution.
Here is the first image. It demonstrates what makes a seam invisible == crease less is TANGENCY.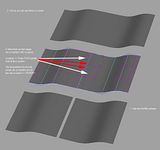 This next image shows how breaking TANGENCY also creates a seam...
And here is one solution (attach with blend and then detach)...
Just a final note. Once you have tangency at two edges then as long as you keep the four hulls closest to the edge (two on each surface) planar you can do anything you want to all the OTHER cv's and hulls and there will never be a visible seam.