**UPDATE**
I continued playing with displacement to add the "lego" text on the top of all the pegs and forgot to post the results. I am still figuring out displacement. There is a significant difference in behavior between mental ray and maya materials.
I still do not have a handle on how to displace inward. All my attempts to do so resulted in my entire model being inflated. In the end I just went with a black and grey disp map image and controlled the positive displacement with the alpha gain.
My original plan was to inset part of the label. So I went with the image in the network below and set the alpha gain offset to -.5. The idea was to shift the 0-1 range to -.5 to .5, but I could not get it to work and have to continue experimenting to understand what is going on better. The shader network below has the image that was not working. In the end I just used a black and grey image and a alpha gain of .07 and alpha gain offset of 0.
The resulting render with alpha gain set to 0.07.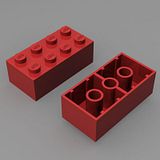 Note that rendering with displacement significantly increases render time!