And no -- I'm not talking about overclocking.
USE AT OWN RISK!!!!
Inspite of nVidia propoganda -- GeForce and Quadro chips run on exactly the same card, just hardware-ID'd differently so that they become registerred as separate cards -- and the drivers turn off any Quadro-only features. (Partly to keep GeForces faster with less stuff on, partly to make people pay through their noses for Rendercards)
This most likely will NOT work on onboard chips -- but they're mostly GeForce4 MX's anyway...
-----------------------
First -- download RivaTuner 2.0 RC 15.5 (link to be added later -- the site is down)
Even though 3dGuru's the only website allowed to post Rivatuner as per author's request,
http://www.tweakzone.nl/downloads/8849
aparently is a mirror... as with the entire tutorial -- USE AT OWN RISK!
Second -- install it -- let it backup your registry -- then turn it on.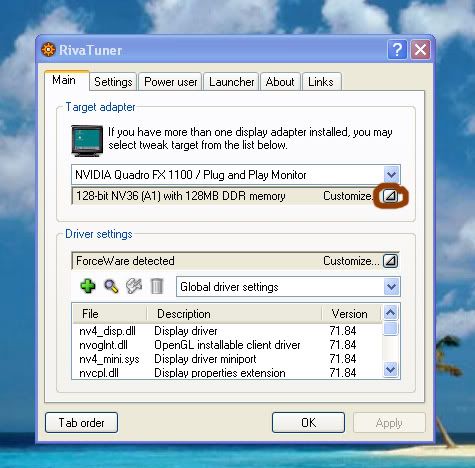 Ignore everything -- and click the spot I highlighted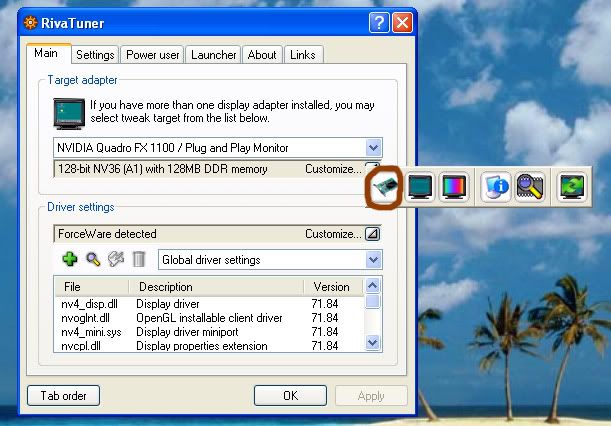 Then this spot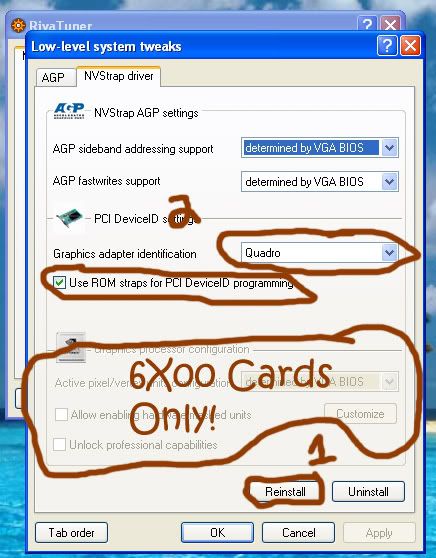 Click on the right-most tab (nVStrap Driver). Considering my card was already setup as a Quadro as of these screenshots everything's done for you.
Click on the "Install button" in the circle with the 1 ontop of it (on the screenshot it says "Reinstall" being as its already installed on my system)
After, make sure "Use ROM straps for PCI DeviceID programming" is selected, and then click the dropdown menu, and select "Quadro"
If you have a 6X00 card -- you may want to fiddle around with the greyed out options which won't be greyed on your system. Aparently for a full Quadro conversion on 6X00 line cards you also need to click "Unlock professional capabilities".
The "allow enabling hardware masked units" and "customize" buttons are basically unlocking and editting shader pipelines which nVidia (may or may not have) locked down. To keep production costs down -- they basically create high end cards -- then lock capacities (in this case -- entire shader pipelines) to make people "get what they pay for".
Afterwards -- as you guessed... then "apply" and "ok"
Restart your computer
When you start up you'll notice your computer will say "Found new hardware!!!" And it will be whatever Quadro matches your videocard.
Next thing? Go into Add/Remove programs -- and boot your danged Videocard drivers off of your system... axe 'em... and I don't mean make them attractive to the ladies through antiperspirant.
Restart your computer.
Then go to the nVidia website -- download and install (with your antivirus off just like any other Videocard driver install) the Quadro drivers...
http://www.nvidia.com/page/partner_c...d_drivers.html
Reboot and configure nView/whatever as you like -- congrats -- you got a Quadro.
NOTE! nVidia's been trying to block nVStrap for a LONG time -- you'll need to update Rivatuner as the drivers get newer and newer...
Also -- considering this is a registry-hacking piece of software -- reinstalling windows with make like this never happened... and will be necessary to redo each time.
The latest Quadro Drivers (71.84's) seem to work okay with RC 15.5 -- but again -- use at own risk.
My 5700 Ultra converts (and underclocks) to a Quadro 1100 non-Ultra (there's no "Ultra" 1100's)
Aparently a 6800 GT transfers to a Quadro 4000.
You don't need to know the numbers though -- your card will tell you what number it is once it thinks its a Quadro.