The color coded shelf is more user-friendly, as it makes it easier for Maya beginners to get the tools and how they work together. There's also been some changes to the menu sets, with the Polygons and NURBS now placed under a single Modeling menu, allowing for a task-based workflow. Things like deformers, which are used both in modeling and rigging, can now to be found under both menu sets, which makes it easier to find what you're looking for.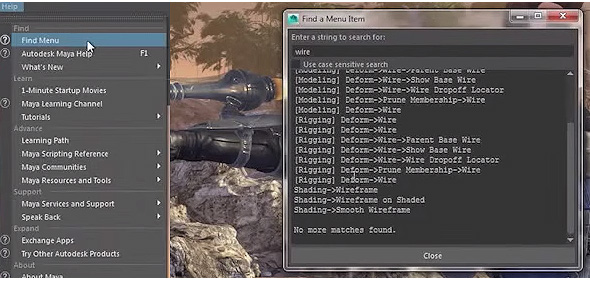 TIP: If you can't find a tool in Maya 2016, go to the Find Menu under Help > Find Menu, and type in what you're looking for. The Find Menu, although there before, was buried in earlier versions.
2. Complete Modeling Toolkit allows for a panel-based workflow
The integration of the Modeling Toolkit, which was first introduced in Maya 2014, is now complete. This is the result of several years work by a dedicated modeling team, which was first set up when Autodesk acquired both the technology and developers of the popular third party plug-in for Maya called NEX.
While the modeling tools can still be accessed through the drop down and marking menus, all the tools can now be found in one place through a single click using the panel-based workflow, which makes navigating the UI for a beginner a lot less confusing. It also has the advantage of keeping you in the viewport, which makes for a more interactive working environment where you don't have to waste time wading through long text-based editors. This is further supported by popup windows for the tools, which offer a filter view for all the attributes you would have available through the Attribute Editor.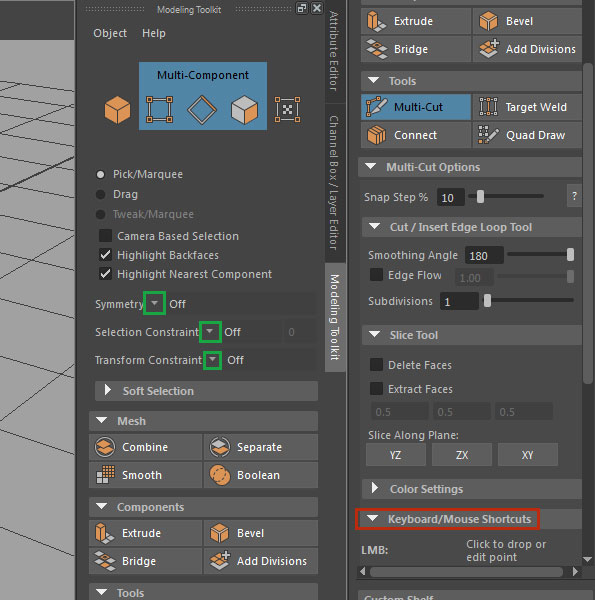 Another user-friendly feature is that the hotkeys are embedded into the Modeling Toolkit itself, if you select a tool such as the Multi-Cut tool and scroll down you'll find the Keyboard Shortcuts (highlighted in red in the image above). Middle-mouse clicking over the arrows for symmetry and constraints (highlighted in green) will toggle between your last state.