There's a lot of money in cartoons these days. Yesterday a sculpture of Popeye The Sailorman made by Jeff Koons, sold for $28.2 million at Sotheby's. The buyer was Steve Wynn, the Las Vegas casino magnate who famously put his elbow through the canvas of an original Picasso a few years back.
Popeye, who was originally conceived in 1929 as part of a newspaper comic-strip, quickly became a cultural phenomenon in the wake of the Great Depression and predated the wave of superheroes that followed in the US comic market. The character has since appeared in numerous books and animated cartoons, and a CG animated Popeye film is currently being developed by Sony Pictures Animation, scheduled for release in 2016.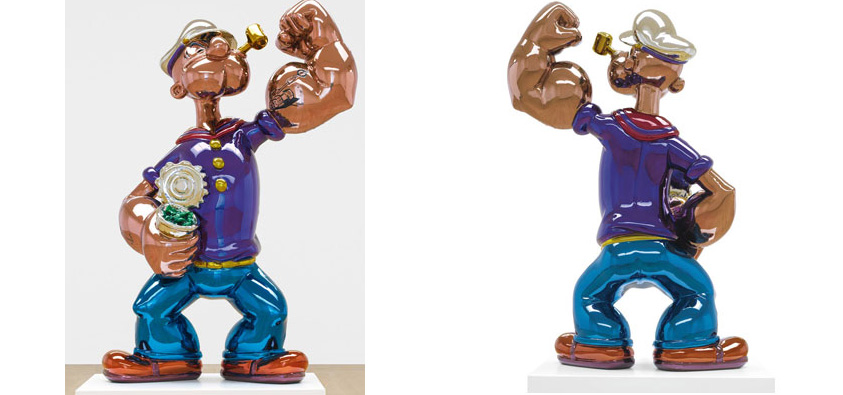 The life-size sculpture made of stainless steel, which measures six-and-a-half-feet and weighs 2000 pounds, will now be transported to Las Vegas where it will be on display in one of the Wynn hotels, perhaps the most suitable place for this ultimate symbol of the American dream.
Art is selling at staggering prices these days. Koons, known for creating brightly colored reflective sculptures that resemble balloons, holds the record for most expensive work of art ever sold by a living artist, after one of his Balloon Dog sculptures went for $58.4 million at an auction in November last year.