Disney is bringing Audio-Animatronics to a new level with the Seven Dwarfs Mine Train opening soon at Walt Disney World in Orlando, Florida.
This is partly due to a collaboration between Walt Disney Imagineering and Walt Disney Animation Studios, with the two working closely together as Disney's doing a full 3D design and delivery process on their Audio-Animatronic Figures for the first time.
Based on the original 2D drawings from the 1937 film Snow White and the Seven Dwarfs, new sketches were drawn and 3D sculptures were created by the animation team, while the engineers determined what kind of movements the dwarfs would be physically capable of.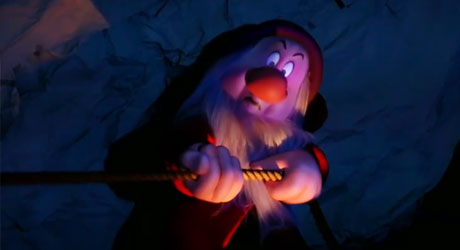 The animators then went back and referenced the original movie and the behavior of the dwarfs in order to create the most realistic facial expressions possible on the Audio-Animatronic figures.
Audio-Animatronics, first created in the 1960's by Disney Imagineering for its theme parks, is a form of robotic animation where the robots move and make noise while being fixed to some sort of ground support powered by hydrolics.
Disney's technology uses an analogue system with a variable signal for the large moving limbs, rather than a digital one where the signal usually only takes two levels (on and off), which allows for more realistic movement with a fluid range of motion.
Oil-filled control cylinders mounted onto ball joints creates free rotation around key areas such as the wrist and shoulder joints for the highest level of realism. The humanoid figures are coated in silicon rubber mimicking skin, and real human hair is used, this is however something that comes with its own set of problems as the constant rapid movements causes it to lose its styling, thus requiring touch-ups in between shows.