What's the market like for pattern making and kit production?
The market is really hit or miss. When making scale models it is always a gamble if it will sell or not. I have seen (and been victim to sadly) research saying something was a sure winner, and would sell hundreds of copies, and in the end only sell 20 not even paying for its own production costs. On the flip side I have seen the most obscure unknown piece of screen hardware sell thousands of copies and make a ton of money for the producer.
From the standpoint of prototyping other then model production, it's doing nothing but getting better. The models I make for rapid prototyping can be used for CNC machining, and all forms of rapid prototyping as well. This form of product development IS the way of the future, no doubt about it. The only thing that holds it back really is the cost of high quality grown parts.
Finding work was not easy when I started, I had to start slow and be very careful when I was trying to make a name for myself. The model guys...they are very, very peculiar and there is a lot of "he said, she said" going on behind the scenes, you wouldn't expect it to be this way but it's very cut throat. The industry is so small that no one wants any competition so they will start lies and spread rumor to ruin the people they compete with.
On the other hand, once you have made a name for yourself, and have broken out of the niche market, work finds you. I get a ton of work from rapid prototyping agencies who have used my files, and recommend me to companies of all sorts to do their product development for them. Unfortunately most of this work I cannot show due to NDA's.

What's the best part about this work for you and do you have any projects that stand out among others you worked on?
I would say the best part of this job really is being able to hold in my hands a physical copy of an object I modeled on the computer. I can put the parts together and know that I engineered it through and through to be what will be mass produced and put on the world market. It is a very satisfying feeling, very different from seeing renders of your work on a screen or in a book.
I think the job I did that stands out in my head better than any other at this point is the studio scale Klingon Bird-of-Prey. It's a 53 inch wide and 39 inch long behemoth. I spent probably 18 hours a day, for approximately three weeks working on this job as I was given a dealing that was nearly impossible to meet. I had to remodel it several times because new "donor" kit parts form the original studio model would be found and I would have to make my model match the dimensions of these plant on parts. Sometimes this was as easy as modifying a surface panel, other times the entire underlying shape had to be changed in some places. It really was a challenge. Once it was all said and done, the parts snapped together so well that glue was optional. The client was totally satisfied, and even designers for Star Trek such as John Eaves and Rick Sternbach gave their seal of approval once it was sent off and started being previewed.
What's been the main challenges working for yourself like this?
There are three challenges really.
#1 Self Discipline : Forcing yourself to work when there is no boss telling you what to do and that it has to be done.
#2 Scheduling : Realizing that you cannot work 20 hours a day and sleep 4 while still being a family man, and retain your sanity as well. Or learn new skills for that matter.
#3 Budgeting your finances: Holding some back out of the big checks, to pay bills in the months where no contract comes at all.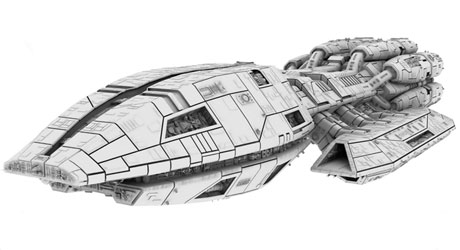 How do you see this industry evolving in the coming years as 3D printing technology gets better?
There are very exciting things happening in the coming years. Surface quality has reached a level of perfection that I see no need to improve upon (when using very high end machines). The next big improvement will be to take that surface quality and expand the foot print of the parts, right now a perfect surface can be achieved but only on a part that is 2.5 x 2.5 inches on the foot print and less then 5 inches tall. Any parts larger than this you'll have to start cleaning the surface, sanding it smooth and that will mean rebuilding details that are sanded off. A general rule is the larger the part, the lower the surface quality. It's not concrete, but it's a good standard to expect.
I really think that from here the next place that will be expanded upon is medical science. They are making great strides now using rapid prototyping to grow skin and organs. Given enough time I believe that it could be used to do away with the need for waits on organ transplant lists.
You also have the military exploring ways to grow structures that build themselves using metals with heat memory. You produce an object that is compact in shape, apply a certain temperature to it and it will unfold into a full structure. This could be adapted to home building, space technologies and life saving applications. With a technology that allows a person to create something in 3D, and then bring that object into existence as a prototype, the only real limit to the evolution of the tech is the imaginations of the generations to come.
More work by Catalyst Creations can be found on their Facebook page.