Your webcomic that's up for crowdfunding is Max Overacts. Can you tell us a bit about this comic?
Max Overacts is about an 8 year old lad, Max, who has the ambition to become the world's next great thespian, a serious actor, and everything in life is an opportunity to showcase his talents. It's a gag-a-day strip but there is also a larger story at play. This isn't one of those strips where Christmas comes every year but no-one ever gets older. All the kids will age.

Some supporting players will come and go and come again, and we'll get to watch Max make lots of important decisions about who he'll become. Janet and Auryn (his two leading lady friends) represent two different lifestyles to Max and he'll constantly be torn between the two. I have lots of fun, big stories planned, but I'm happy to just stumble along, laying down the character, which will make it all the more satisfying when we get to some of the heavier stuff planned. I really want to make a strip where you care enough about the characters that, when major life stuff goes down, it's gut-wrenching. I'm hoping I can get to that place through the use of humour.
What inspired Max to begin with?
Well, I had just finished Celadore with DC Comics, a big 180 page fantasy epic and was looking to get back to doing small daily gags. Something a little less heavy and more in my comfort zone. So I dug out some of my old ideas, and found a two page doodle that I thought had real potential. On these pages was this kid, Max, going over the top thanking his mum for their dinner (which became the first comic strip) and the original story was a morality tale about how parents shouldn't push their kids too far, but I added Andi, Janet, Klaus and Max's love of ventriloquism, and the strip was born.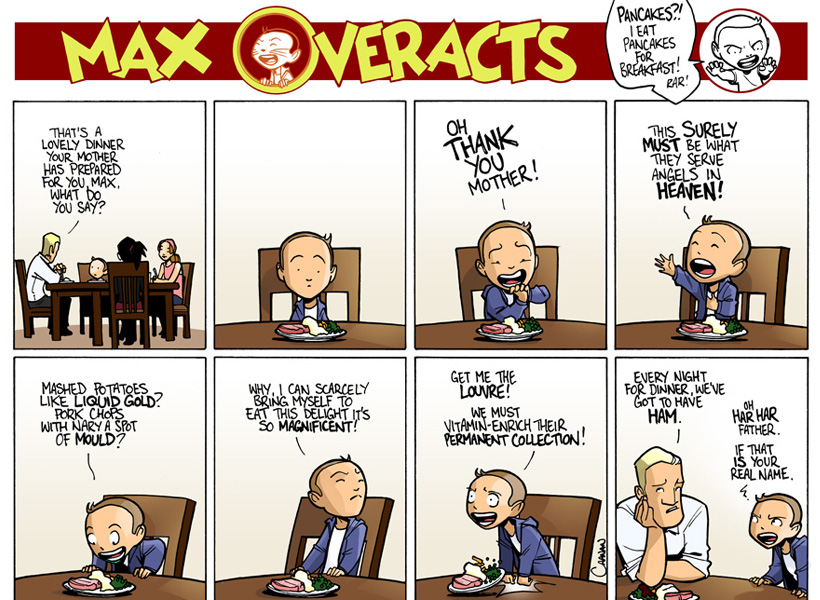 A large cast of characters is good for longevity with a comic strip, but a strong lead character is also essential, and Max is most definitely strong - like stinky cheese.
For how long have you been working on Max?
I've been doing Max for about a year and a half, including some down time while I recharge batteries, or deal with server issues, which, actually, never did get resolved. (Just goes to show I'm not that popular still.)

How do you spread the word about a webcomic like Max Overacts so that people find it?
I wish I knew. I was lucky enough to get some people talking about my comic strip at the very beginning without even asking for it, which was great! I've always thought if it's good enough, it will sell itself, so that was kind of validating. Since then, the readership has grown pretty much just through word of mouth.
I got an Eisner nomination for Best Digital Comic earlier this year which got me some elevated views for a month or two, but it normalised again after that. I do a weekly sketch feature with comic book resources dot com, which is a good showcase for my sense of humour, so I got a lot of readers through there, but apart from that, I don't know where they come from at all. It's a mystery!
What equipment and materials do you use to produce your comics? Do you work both on computers and by hand?
Yep. All the comics are drawn with pen on bristol. I've just switched to blue line pencils to streamline that process a little, as it removes the time spent erasing pencil and touching up areas where the eraser also fades the ink. (It's good to have the original, physical, paper comics as something extra to sell since no-one is paying me to do a webcomic.)
Then I scan them and colour them with a 4 x 6 wacom in Photoshop, which is a continual lesson in how to do things wrong. I'm slightly colourblind, so that part is never easy, and I've never formally learned Photoshop, so I'm sure I use it like a time-traveling caveman might bash a typewriter.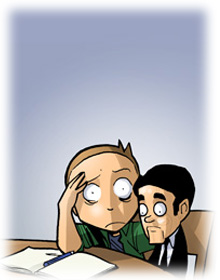 Do you have any personal favorite comics and what's important to you in a good comic?
I love, and will re-read any number of times all these things - Peanuts, Cul de Sac, Calvin & Hobbes, Mutts, Bone, Carl Barks and Don Rosa Duck stories, older Archie comics, Major Bummer, and I guess there's a zillion other things I love to read, but those are the core things I always come back to. (More current favourites are Laika, The Stuff of Legend, Salt Water Taffy, Love and Capes, Ultimate Spider-Man, and Reed Gunther.)
I always look for humour in my comics, and good writing. Weak stories with great art don't interest me much. I prefer strong writing still with great art. 'Great' meaning a style that is the perfect compliment to the story it's trying to tell.