Meet Josh Burton, animator and storyteller, who's been creating things for as long as he can remember. After graduating from SCAD with a BFA in animation in 2005, he started at Midway Games in Chicago and Austin, where he would work on games during the day and personal projects at night. Since fall of 2008 he's been working as a freelance animator while starting a new life with his lovely wife in Houston, Texas. Josh is the creator of the Squirrely and Morpheus rigs for Maya, and in this interview he shares some of his experiences with us.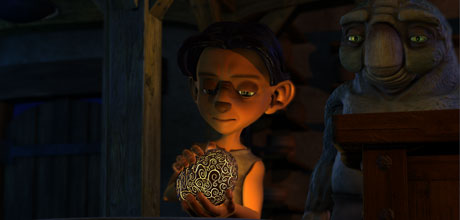 Hi Josh, first off can you tell us a little bit about who you are and what brought you into the field of art and animation initially?
Well, I'm a guy from a small suburb of big city Oklahoma City who loves good books, mocha coconut iced coffee, his wife, family and friends and making and sharing CG stuff. I've lived all over the states, traveled the world a bit and am trying to make a life where I am and not where I might be some day. I've been passionate about art, animation in particular, since I was a kid. In junior high and high school I took all the art classes I could.
I got a bit of a start in high school with Truespace 3D and then spent a tour in the Marine Corps doodling in log books. Towards the end of my tour I got a hold of a copy of Lightwave.
After finishing up in the Corps, I spent a year at the Art Institute of Washington. At this time I also started freelancing as an artist before I transferred down to Savannah College of Art and Design. There I learned how to make films and got a firm foundation in animation, as well as made some great friends to grow with.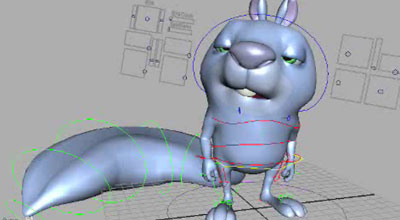 Do you feel going to school helped you get started and what are the advantages of education in a field where no formal degree is required on the job market in your opinion?
Yes, as the son of two educators I think an education is pretty important. That being said, nowadays I could easily see an animator "making it" with one of the animation only non-degree programs. I'm not sure that there are that many huge advantages in our particular field for having a paper degree - it's really a sink or swim field once you get your foot in the door.
Though I thoroughly enjoyed my school experience, the biggest perpetual blessing I have from that is the friends I made - many of whom I still have the pleasure of working with on projects today.
How did you get started in the industry - can you tell us a bit about the early job experiences?
My first experiences were as a freelancer taking jobs as they came - I will say that freelancing can be pretty trying at times. Especially bidding, I loathe bidding.
In terms of a company experience, my first was with Midway Games (now no more). It was an odd first year but for personal reasons. However, in the end I had a lot of fun working on a lot of game projects. I even got to share an office with one of my good friends from college, Scott Englert.
Some of my best memories are of he and I sitting in our office hashing out ideas on the white board. We spearheaded a facial animation/rigging push for several projects and I learned a great deal about making tools and coding from him. I spent much of that time doing facial poses for our rigs and painting weights, and towards the end I was doing a lot of reviewing as the acting facial lead on several projects.