You were involved in the SAW franchise. Can you tell us a bit more about that?
It was a challenging pair of projects. Especially the second one where we literally had eight months to create a sequel to the first SAW (which was in development for closer to 18 months)! Consequently, I found a lot of my work had to be relatively rushed, and didn't provide a lot of time for revisions, requiring us to nail it on essentially the first go. I was never a very big SAW fan, and still don't really like them, but I am proud of the art work in those games and feel that we were able to nail the feeling of dread, foreboding, and general uncomfortableness that the SAW films have in spades. *shiver*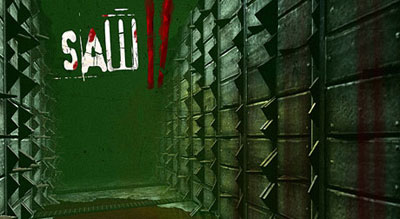 What's the most interesting project you've worked on throughout your career?
I've worked on all kinds of interesting projects, many of which have never seen store shelves unfortunately. For instance, my first job was for a Lord of the Rings game that was canceled. That was a fun project. Strangely enough, I've started to find more pleasure in individual assignments as opposed to a project as a whole these days. I found the Venus Flytrap Helmet in SAW and SAW II to be very interesting to work on. Currently I'm having a lot of fun making realistic military weapons and vehicles for an undisclosed project. The amount of photo reference available for such things is astounding and it is pushing me further then ever to create something that is very realistic compared to my previous work.
What goes into being an Environment Artist on large game productions? What are some of the main tasks and problems you might run into along the way when you're working in this field?
I don't really know! ;) I've only worked on small-medium game productions. Most of the time, the entire team I've worked with was not many more than 30 people. Sometimes less even. The art team for SAW II for instance was four environment artists, one particle effects artist, three animators and the Art Director. Not a huge art team by any means. And that was more than we had on SAW! Pretty insane, really. I'm not sure how we pulled off what we did come to think about it... But that's the beauty of game development. You've got to be able to think on your feet, work fast, smart, and keep a high standard for quality.
Can you tell us a bit about how the production pipeline for games would run?
This can vary from studio to studio but for me, the typical process is thus:
1) Receive assignment with concept art/reference photos/sketch. If it's a real-world object, like a realistic military gun, I would go online and look for supplemental photo reference to make sure I can get it as accurate as possible. If it's a more fantastical object, I'd study the concept and perhaps look for reference for certain aspects of the object in question - such as looking at metal references for creating a metallic alien ship and so on.
2) Create the high resolution mesh in Maya and/or Zbrush. Most of my work assignments are hard surfaces, which don't really require me to use Zbrush so I typically will create the high res mesh in Maya. For more organic things, however, Zbrush can be very helpful.
3) Create the low resolution mesh in Maya.
4) UV map the low resolution mesh.
5) Bake ambient occlusion and normal maps.
6) Create textures in Photoshop.
7) Export to the game and make sure it looks good. Fix any issues, and submit!