Can you tell us a bit about some of the projects you've worked on?
I've worked on various projects over the years, it hasn't all been movies. I've done a fair bit of television work prior to that, as well as more multimedia related 3D work ranging from 3D comic strips to video tutorials for your goodselves at Simply Maya.
I must have created over a five hundred blend shapes alone for the characters I made
The most notable project for television was "Headcases", which was a comedy show making fun at politicians and pop stars who are in the media spotlight. I was a character modeler on that show and it was a great experience. Following that I did a couple of shows for Discovery Channel. The one that stands out for me was "Into the Universe" with Stephen Hawking. The company Redvision with whom I was hired to help with the show really showed their trust in my abilities, not only as a modeler but also a concept artist. I was given the task of designing alien creatures and then building and texturing them. I really enjoyed myself there and will be forever grateful for that opportunity. I also modeled the majority of hard surface vehicles for that show.
Following on from there, I went to one of London's big VFX facilities, Cinesite, where I was a character modeler for the movie "Marmaduke" for around 10 months. People cringe when it comes to making these talking dog movies, but I can tell you it's hard work trying to make it all come together. Getting a dog to look like it's talking naturally is not an easy thing to do, there's a lot of work involved in this. I must have created over 500 blend shapes alone for the characters I made. Following on from that I worked on the feature film "John Carter of Mars", which is due for release in 2012.
Which was the largest production you ever worked on?
I'd say "John Carter of Mars". That would be what I would call the largest production, but in terms of the scale of work I wouldn't say I did a massive amount as the team was just huge in the modeling department. It must have been 50 of us at least. As the work is so spread out it's worth noting that sometimes you don't always get to do the 'cool' stuff, regardless of your skill set, a lot of the time you are just in the trenches getting props made big or small. If anyone is interested in knowing more about the movie, look up the Edgar Rice-Boroughs books series - "The Princess of Mars".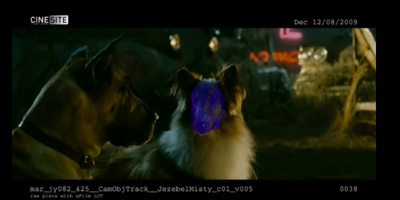 However the largest amount of work I've ever done, would have to be the movie I'm on now which is called "Lock Out". As the senior modeler I can actually say that now I'm getting to make the cool stuff - I'm building alot of the hero assets for the movie. I really can't elaborate any more than that about the film, except I'm thoroughly enjoying myself so do keep an eye out for it in a year or so.
What do you think potential employers are looking for?
Do you have any advice you'd like to give to people who are currently searching for work that might offer some help on the way?
What people need to be aware of is that there are hundreds of applications sent to VFX houses EVERY day. They are inundated - seriously, I'm not kidding. I have witnessed this first hand and for the supervisors to find that one person to fit the bill of any one position takes a fair bit time, constantly looking through piles of CV's and reels. It takes ages, which is why on a job advert it usually has a closing date along way down the line.
Every employer wants the best person for the job - it's that simple. I'm not just talking about the guys at the top, I'm talking right through to junior levels. In a nutshell, if your reel makes an impression, then you'll get a call - period. But it all takes time so be prepared as it can be very frustrating when you don't hear anything at all. One thing to keep in mind though, it only takes one job to get your foot in the door, the rest will follow....