Tutorial Overview
Save 20% off the regular price with this mastering mental ray bundle, which contains three of our best selling tutorials from the last year. We put it together to focus on creating and rendering outdoor environments. The first two tutorials in concentrate on creating the lighting and scene components, trees, grass, plants, bushes and other outdoor assets. The third tutorial covers getting the most out of the render engine using render passes, layers and pass contribution maps. Full descriptions can be found below. While the focus of this bundle is exteriors, it also covers a lots of mental ray information that can be used in any scenario. This bundle contains the following tutorials: Exterior lighting in mental ray, Realistic outdoor environments and The dark art of mental ray
01 - Exterior lighting in mental ray
The goal of this tutorial is not to teach you how to light up one scene, it's to get you comfortable working with mental ray for exterior arch-viz. We use a relatively simple model so we can focus our efforts on techniques that you can reuse in your own scenes. What's covered in this tutorial is listed below.

Scene setup and introduction to linear workflow
Gamma correction and understanding color space
Setting up physical sun and sky
Tone mappers in Maya simple exposure and photographic exposure
Blocking out the main scene with the mental ray architectural material
Creating a swimming pool shader basic lighting and viewport 2 setup
Building more complex shading networks with the arc design material
Creating custom reflection / bump and displacement maps in Photoshop
Building more complex shading networks with the arc design material continued
Creating clouds and then animating them for time-lapse shots
Using mental ray production shaders to control our scene, custom reflections and eye rays
Photometric lighting in Maya explained
Outside lighting and visible light geometry
Finishing the shading of the scene, quick way to create grass, inside lighting
Finishing the scene shading continued
Creating curtains with ncloth
Rendering a separate scene background and final image tweaks.
All scene files are included. Files are also included for older versions of Maya.
02 - Realistic outdoor environments
In this eleven hour long tutorial we take a look at creating realistic outdoor environments in Maya and mental ray. If you've been relying on third party applications to create your environments this tutorial will show you how you can do it within Maya. Every element in the scene you see above is created in the tutorial entirely within Maya. We look at creating different types of trees, bushes, flowers and grasses. We also look at how the final scene itself was put together.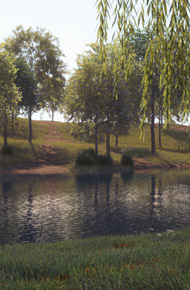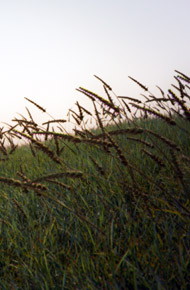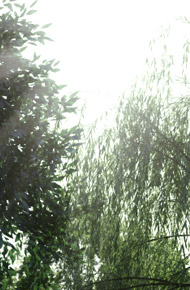 By the end of the tutorial you will have built up a large library of reusable assets for all your own outdoor scenes as well as a good working knowledge of paint effects.
03 - The dark art of mental ray
If you find yourself rendering over and over again for hours at a time, this is the tutorial for you. In this tutorial we'll attempt to demystify mental rays render pass system paying special attention to the mia_material_x and it's outputs. We'll also look at common uses for render layers such as ambient occlusion and depth. We'll show you how to split your image apart to achieve an almost material level control in post. We'll delve into complex masking with pass contribution maps as well as simple masks using custom color passes. We'll achieve control of the individual lights in the scene in post saving you tons of time. By the end of this course you should have total control of what comes out of mental ray, giving you back control and more importantly saving you time. We use Nuke in this course for the post production work and all scene files are included.
Downloads
If you've purchased a downloadable copy of this this tutorial you can download it using the links below. Links will be active for Lifetime Members and people with video credits
| Parts | Credits | Length | Size |
| --- | --- | --- | --- |
| Lesson Pack 1 | 3 | 37 Minutes | 180 Mb |
| Lesson Pack 2 | 3 | 61 Minutes | 282 Mb |
| Lesson Pack 3 | 3 | 80 Minutes | 429 Mb |
| Lesson Pack 4 | 3 | 62 Minutes | 203 Mb |
| Lesson Pack 5 | 3 | 56 Minutes | 362 Mb |
| Lesson Pack 6 | 3 | 40 Minutes | 202 Mb |
| Lesson Pack 7 | 3 | 31 Minutes | 580 Mb |
| Lesson Pack 8 | 4 | 72 Minutes | 450 Mb |
| Lesson Pack 9 | 4 | 104 Minutes | 887 Mb |
| Lesson Pack 10 | 4 | 87 Minutes | 475 Mb |
| Lesson Pack 11 | 4 | 100 Minutes | 1300 Mb |
| Lesson Pack 12 | 4 | 95 Minutes | 1200 Mb |
| Lesson Pack 13 | 4 | 58 Minutes | 452 Mb |
| Lesson Pack 14 | 3 | 95 Minutes | 516 Mb |
| Lesson Pack 15 | 2 | 35 Minutes | 309 Mb |
| Lesson Pack 16 | 3 | 27 Minutes | 81 Mb |
| Lesson Pack 17 | 3 | 34 Minutes | 90 Mb |
| Lesson Pack 18 | 3 | 28 Minutes | 85 Mb |
| Lesson Pack 19 | 3 | 71 Minutes | 228 Mb |
Length: 19 hours and 33 minutes
Software: Maya 2014
Format: 1080p HD
Download Price: 83.95
Video Credits: 62