Quote:
Originally posted by acid44
sweet ass, thanks man



actuially its easy just go to

C:\Documents and Settings\"user name"\Application Data\Opera\Opera\profile

and open up speeddial.ini with notepad or somethin similar, and add


[Size]
Rows=?
Columns=?

with the rows and columns of your choice






i used 5 rows 6 columns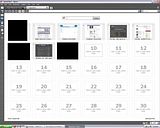 It seems I didn't read the article correctly!

I missed the bottom where it says you have to add the lines into the ini. I did read the top that said poke around in the dlls and thought - eep!

Oh well,