Thank you guys. Means a lot to me.
I found a great way to create the feathers.
I searched and searched but could not find a clean template for any of the Christen eagle paint schemes. I have the templates I used for my plane but they are down in a hanger in Texas. As I am in michigan atm getting them would be problematic.
However, Microsoft flight simulator X has a free Christen eagle package complete with texture maps for several Eagle patterns. So I just downloaded the package along with a program to convert DXTBMP files to bmp files that photoshop and illustrator could read (24-bit bmp).
I then brought the files into illustrator and created vector art for all the feather and stripe and eagle head patterns. Once I had them in vector art I could bring them into photoshop as smart objects and scale them to any size without loss of resolution. Tah Dah!
Worked great!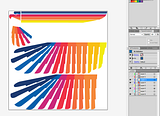 I just need to do a low poly partial engine to fill the area you can see through the air intakes and model out an interior.
I would put some rivet detail and panel line details in but I kinda cheated on the texture mapping. I just shot planner maps from the side and top and then split the left and right side and top and bottoms of the flight surfaces. I did not do any unwrapping at all. There is no overlap but it's hard to match up the panel lines the way I have done it. So I may declare victory and move on.

The model is all rigged as well. I have a single locator with canopy, aileron, rudder, elevator, prop rotation, prop pitch attributes that I can scrub to control the associated model component. I did not rig up the tailwheel as the chains present a bit of a problem. I need to remodel the chains anyway as I use a default torus for each link and as a result more then one half the total number of polygons in the entire model are in the two chains (like 360K polys! lol) With the chains remodeled the entire model both unsmoothed and smoothed will be reasonably compact.
~12k polys unsmoothed
~300k polys smoothed