Quote:
Originally posted by GecT
Or if you don't have the tool box part of the UI showing you can just hit that icon on the top right of the screen and there's the long way, Windows>Settings/Preferences>Tool Settings. Personally I slapped a hotkey on it.

Edit: Forgot image :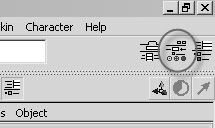 It works now, thanks a bunch!
BennyK - Thanks for the assistance.