When the Senior VFX team went out to the Skywalker ranch for the initial production meetings they were met by Lucas and a staggering amount of 3500 storyboards pasted up on sheets of foamcore. It was unlike any other special effects movie ever done, an effects heavy film at the time had 250 shots and Titanic had been an epic undertaking at close to 500 shots. Lucas was thinking about something closer to 2000 shots.
ILM had more freedom than they ever had on the original Star Wars trilogy due to newly developed digital technology and as Lucas said at this point;
The fun part about writing this project was that I wasn't limited, whatever my imagination could come up with I just put down on the page and then said we'll worry about this later.
Whereas before filmmakers had been restricted by physical boundaries - you couldn't make something that big or create such an epic landscape as the setting for your story - anything was now becoming possible.
The film was a massive undertaking. Three VFX supervisors led separate teams, one focused on podrace and space battle sequences, one on lightsaber effects and the final one on the underwater sequence and ground battle. In addition to this there were several teams set up for character animation and miniature effects.
However the CG that was meant to take the world by storm was met with mixed responses amongst the audiences. Perhaps the most negative reaction was that to Jar Jar Binks who was being touted as "the first walking and talking CG film star", with the role played by actor Ahmed Best. In addition to providing the voice he was filmed on the set interacting with other actors while wearing a Jar Jar suit and mask, his performance was motion captured and then transferred over to the digital version which was seen in the film. This technology has continued to develop and become more popular in recent years with Andy Serkins roles as Gollum in The Lord of the Rings and Caesar in Planet of the Apes.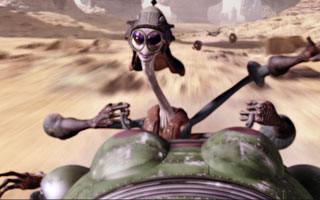 The famous podracer sequence had an all digital cast and digital ships, this was some of the most memorable VFX ever created and a triumph to CG, but although the digital characters were being used extensively some of the classic models stayed the same. This was the case with R2-D2, who was played by the English actor Kenny Baker.
In the original Star Wars film only two versions of the model existed, one was remote controlled and rolled on wheels and the other was worn by the actor who walked on two legs, but as problems with the remote controlled version had occurred a total of nine R2-D2 models were created for the new film. As before, there was one for the actor to wear and one pneumatic R2-D2 built in Britain that could shift from two to three legs. The latter version was used mostly while filming Tatooine scenes in the Tunisian desert, as it had a motor system that allowed it to drive over sand. ILM built another seven models containing wheelchair motors capable of pushing almost 200 kg of weight.