Alright So I have been looking around inside maya 2010 installation Folder and found this really cool Free Rig. i have rigged characters before but this one is new to me.


i'm not so sure how this rig was done but it doesnt seem to have an IK Handle but there is something that's making it move like an IK handle, ive checked the Outliner and i can't see anything about IK.


when i click at what i mostly call a hand Controller i would probably see things like Index finger, Spread, so on.. but in this one they have called the Controller "handEFF" HikEffector which i have no idea what it is, but has really COOL Attributes.


and the thing that made me come and ask this question here is because of what i found in the Channel box of the hand controller, There is something Called "Pinning" and right under it there is a Pivot Offset X,Y,and Z when you increase it or decrease it then a complete movement to the whole body happens, which i find it to be very useful.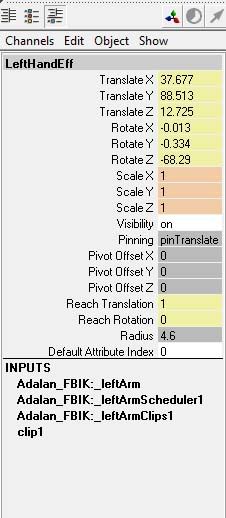 maybe its part of the nCloth since the file is inside the nCloth Folder but whatever it is i would LOVE to learn how this was done.

so please if anyone out there who knows how it works please do let me know how or direct me to a tutorial


here is where the file is:

{C,E or watever drive, Program Files}} \Autodesk\Maya2010\GettingStarted\nCloth\dressAnim ated.


Any Help is Appreciated