Hi there!

I have been trying several things but can't come to a nice and pretty result.
I want to make a large grid in the shape of a round like Triangle.
Like this picture below.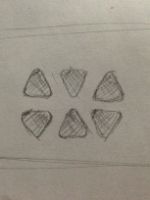 The darker areas need to be taken out, so they become holes.

Here is another picture just to make things clear.




Whats the best way to do this sort of things?

Thank you so much for helping me!